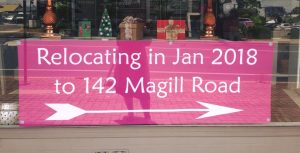 We will be relocating in the new year. Our existing store at Kensington Park will close after Christmas, and relocate to 142 Magill Road at Norwood in January 2018. It's not very far from our current location, and still on Magill Road.
For those of you who have been with me since 2003 will know this is where Mahdena was first born and opened.
This is all very exciting, and also quite intense with it all happening after Christmas!
The store in Norwood is a much bigger premise. It's not all all what I had in mind after investing so much time and energy creating our lovely space in Kensington Park, and opening our doors here just over a year ago!
Our current store is beautiful, but a little small to accommodate the aromatherapy kids parties that I have been hosting. In our new store at Norwood, we have lots of space to accommodate larger groups for kids aromatherapy parties and workshops. But not only that, we have other events in the pipeline too – aromatherapy workshops for adults, pamper events for ladies, and hen's nights parties. More about these next year!