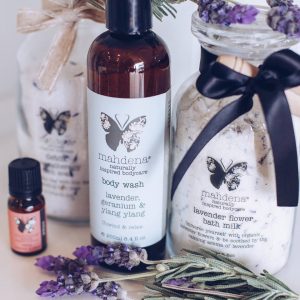 Lavender is an essential oil that is versatile and bountiful with its uses and benefits. The mother of all nurturing oils and an undisputed first choice in your first aid kit. Sit down for a moment or better still with a cuppa and read on as it's an oil you won't want to be without in your own home or on the go.

Lavender is known for it's sedative properties and is useful for treating anxiety, insomnia and migraines.

Lavender is also helpful for treating headaches by rubbing it diluted with almond oil onto your temples or as a cold compress on the back of your neck or forehead.

Its analgesic & anti-spasmodic properties is beneficial for muscular aches & pain. So you can incorporate it in your massage, shower or bath.

Lavender's antiseptic properties make it ideal for treating coughs, colds and flus. Great to infuse into your home or work place in the cooler months.

It's uses for the skin are amazing which is why I use it so much in my skin care range. It's anti-inflammatory, anti-septic and soothing properties are beneficial for eczema, dermatitis, sunburn & minor cuts.
It's a non toxic oil which makes it safe for children.

At home and when travelling I use lavender on my children's mosquito bites, minor burns, anything itchy or sore. In a bottle I mix it with peppermint essential oil and aloe for a healing and cooling effect on sunburns.
A must when holidaying in summer! Need I say more?! Well worth your money spent with this priceless gem that Mother Nature has gifted us.